Discover more from The Morning Column presented by The Sporting Tribune
A free daily newsletter from The Sporting Tribune, delivering local sports news, viewing schedules and deals on tickets directly to your inbox.
The moment LeBron became a Laker
It took James time to understand what it meant to play for the storied franchise.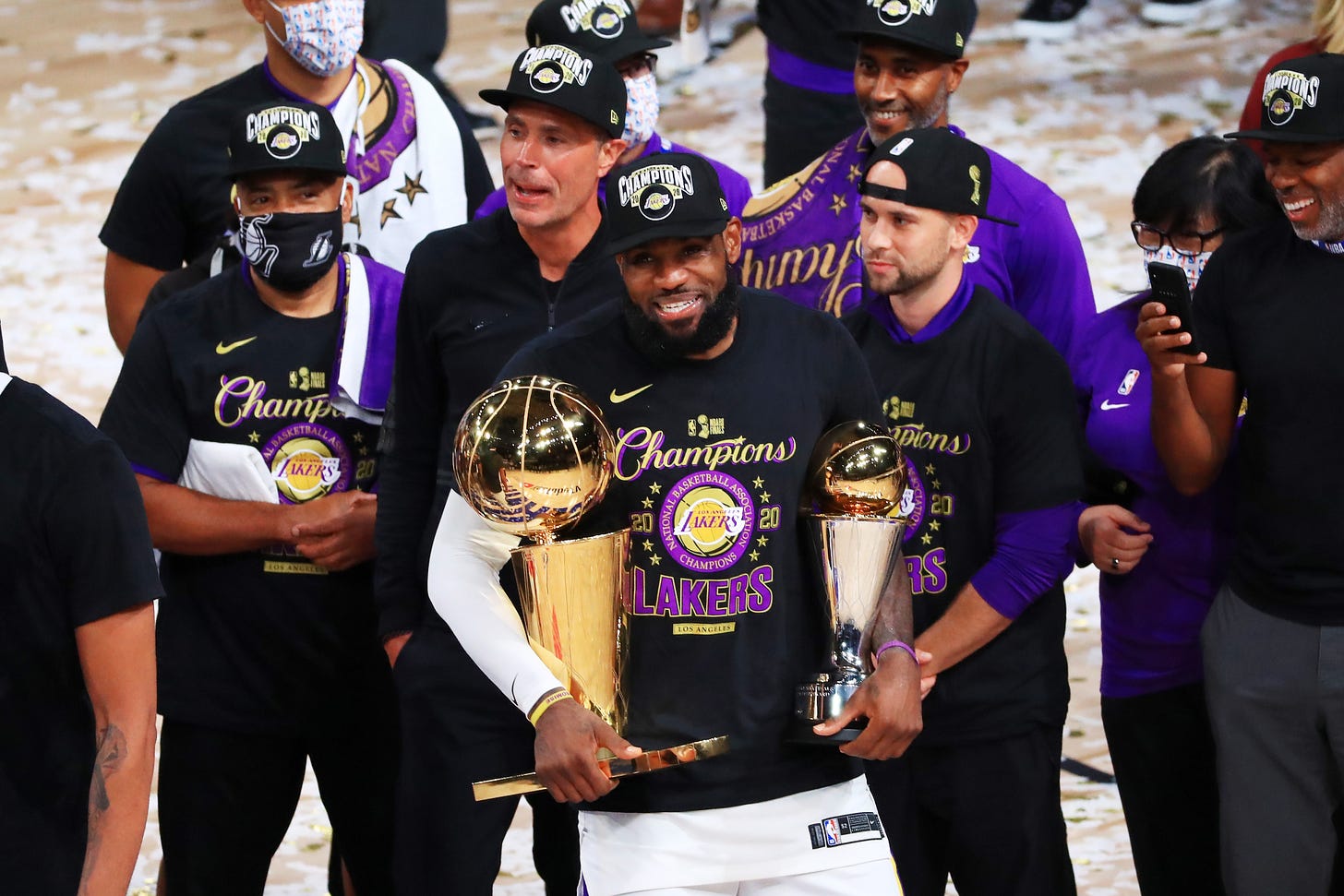 When LeBron James stood in front of reporters in Los Angeles for the first time after signing with the Lakers two years ago, he was asked how he would earn the respect and loyalty of Lakers fans.
He was confused by the question.
"Me? Huh?" James said. "I signed a four-year deal, what more do you want me to do?"
James' response made sense if he had signed with 29 other teams in the NBA but the Lakers and their fan base are different. Despite being in the midst of a six-year run where they missed the playoffs and were a below .500 team, many Lakers fans were against the team signing James two years ago.
Despite leading his teams to the NBA Finals eight consecutive seasons and being generally regarded as the best player on the planet, some Lakers fans viewed him as nothing more than a mercenary who was more interested in Hollywood success than on-court success with the Lakers.
Lakers fans I talked to in-person and online were so split on signing James two years ago, I decided to post a poll on Twitter asking Lakers fans a simple question: Do you want the Lakers to sign LeBron James? That may seem like a ridiculous question to fans of 29 other NBA teams but not to Lakers fans. The question got over 10,000 responses and the result was about what I expected. Over 42 percent of Lakers fans who responded said they did not want the Lakers to sign James.
These were real Lakers fans with real issues with James. They didn't like the fact that he was 33 years old and seemingly at the end of his career. They didn't like the fact that there was no clear pathway towards a title with the team the Golden State Warriors had built and they didn't view James as a "real Laker."
When James did sign with the Lakers, multiple murals that had been painted of James as a Laker were vandalized around Los Angeles. One of them was spray painted with insults such as, "We don't want you," "LeFraud," and "3-6," which was James' record in the NBA Finals at the time.
James didn't help matters with a cryptic first tweet after signing with team where he essentially hinted he would throw a pizza party in Culver City but never showed up; leaving hundreds of Lakers fans confused, angry and hungry.
The bigger issue for James during his first year in Los Angeles was the Lakers finished 37-45 and missed the playoffs, which was essentially what they had done the previous season without him.
The relationship between James and Lakers Nation began to change last year when the team traded for Anthony Davis. It was a move orchestrated by James' friend and agent, Rich Paul, who also represents Davis. The trade catapulted the Lakers to championship favorites for the first time in nearly a decade. The Lakers once again had a dynamic duo to follow in the footsteps of Jerry West and Wilt Chamberlain, Magic Johnson and Kareem Abdul-Jabbar, Kobe Bryant and Shaquille O'Neal and Bryant and Pau Gasol.
James was truly embraced as a member of the Lakers shortly after the death of Bryant on Jan. 26. The night before, Bryant sent out his final tweet, which read, "Continuing to move the game forward @KingJames. Much respect my brother. #33644"
James had just passed Bryant for third on the NBA's all-time scoring list and scribbled, "Mamba 4 Life" and "8/24 KB" on his shoes. Bryant and James briefly spoke Sunday morning before James and the Lakers boarded a flight back to Los Angeles from Philadelphia. A few hours later Bryant, his 13-year-old daughter Gianna, and seven others were killed in a helicopter crash. 
News of the tragedy reached the Lakers' charter flight before it landed. It didn't seem real. They prayed it wasn't true. James broke down as soon as he departed the plane and posted a message the next day on his Instagram.
"I promise you I'll continue your legacy man! You mean so much to us all here especially #LakerNation and it's my responsibility to put this shit on my back and keep it going!! Please give me the strength from the heavens above and watch over me! I got US here!"
I'm Not Ready but here I go. Man I sitting here trying to write something for this post but every time I try I begin crying again just thinking about you, niece Gigi and the friendship/bond/brotherhood we had! I literally just heard your voice Sunday morning before I left Philly to head back to LA. Didn't think for one bit in a million years that would be the last conversation we'd have. WTF!! I'm heartbroken and devastated my brother!! 😢😢😢😢💔. Man I love you big bro. My heart goes to Vanessa and the kids. I promise you I'll continue your legacy man! You mean so much to us all here especially
#LakerNation
💜💛 and it's my responsibility to put this shit on my back and keep it going!! Please give me the strength from the heavens above and watch over me! I got US here! There's so much more I want to say but just can't right now because I can't get through it! Until we meet again my brother!!
#Mamba4Life
❤️🙏🏾
#Gigi4Life
❤️🙏🏾
When the Lakers finally returned to Staples Center to play their first game, it was James, wearing Bryant's No. 24 jersey, who walked to midcourt with a piece of paper outlining what he wanted to say. 
"Now I've got something written down ... but Laker Nation, I would be selling y'all short if I read off this shit so I'm going to go straight from the heart," James said, tossing his speech to the side. 
"I had heard about Laker Nation before I got here last year about how much of a family it is – and that is absolutely what I've seen this whole week. I want to continue … his legacy not only for this year but for as long as we can play the game of basketball that we love because that's what Kobe Bryant would want."
It was the moment James not only truly became a Laker but etched his named into the fabric of the storied franchise forever. He finally understood what it meant to be a Laker and Lakers Nation finally understood how much he meant to their team.  
Before James led the Lakers to their first championship in a decade and 17th in franchise history, he was asked what he learned about being a part of the team two and half years after coming to Los Angeles.  
"What I've learned being a Laker is that the Laker faithful don't give a damn what you've done before," James said. "Until you become a Laker, you've got to do it with them, as well. They don't care about your resume at all until you become a Laker. Then you've got to do it as a Laker, and then they respect you."
After bringing the Larry O'Brien Trophy back home to Los Angeles, James has forever earned the love and respect of Laker Nation.
Listen to "The Arash Markazi Show" on The Mightier 1090 Monday-Friday from 12 p.m. to 1 p.m. You can also listen to the show later on Spotify, Apple Podcasts and Google Play.