Discover more from The Morning Column presented by The Sporting Tribune
A free daily newsletter from The Sporting Tribune, delivering local sports news, viewing schedules and deals on tickets directly to your inbox.
Rob Pelinka snubbed in voting
The Lakers GM finished seventh in NBA executive of the year poll.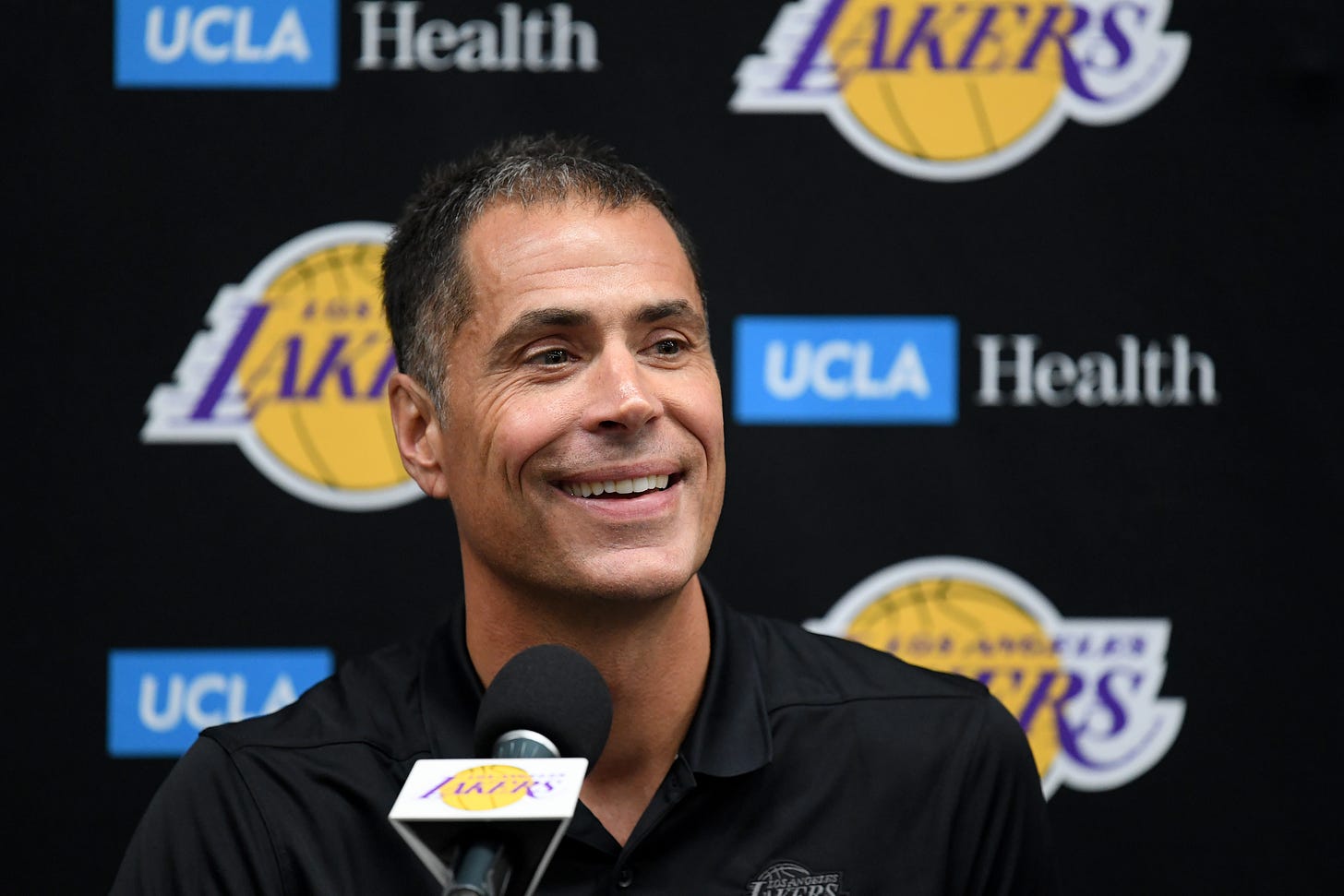 Clippers president of basketball operations Lawrence Frank deserved to win the NBA Executive of the Year Award.
It's important to start there because this isn't about Frank or the job he did last offseason when he helped orchestrate the signing of Kawhi Leonard and a blockbuster trade for Paul George. The moves made the Clippers championship favorites by many oddsmakers for the first time in franchise history. 
This is about Lakers vice president of basketball operations and general manager Rob Pelinka finishing seventh in voting and receiving just one first place vote. 
Pelinka didn't deserve to finish seventh and he didn't deserve to only have one first place vote.
Frank and Pelinka were the top two executives in the league this season. Both deserved to finish 1-2 in voting and either one was deserving of the award but Pelinka's seventh place finish simply shows many NBA team basketball executives, who vote on the award, still refuse to give Pelinka credit for helping turn around the fortunes of a Lakers team that had missed the playoffs for six straight seasons and are now one win away from winning their first NBA title in a decade. 
Pelinka finished with 14 total points, including one first place vote, three second place votes and no third place votes. So only four people agreed he was one of the top two executives in the NBA this season while the others refused to give him credit or change their stance on him. Many of these executives were the same ones who said Pelinka was in over his head when he took the Lakers job, didn't deserve the position he was given and simply got lucky that things worked out this season.
The most popular narrative against Pelinka came after he completed the trade for Anthony Davis, which should have been his crowning achievement one year after signing LeBron James. The belief in many circles was that he didn't know the rules of the salary cap because he agreed to complete the deal with the New Orleans Pelicans after the business moratorium ended on July 6 instead of at the end of the month. That small detail prevented the Lakers from having room to offer a player a max contract.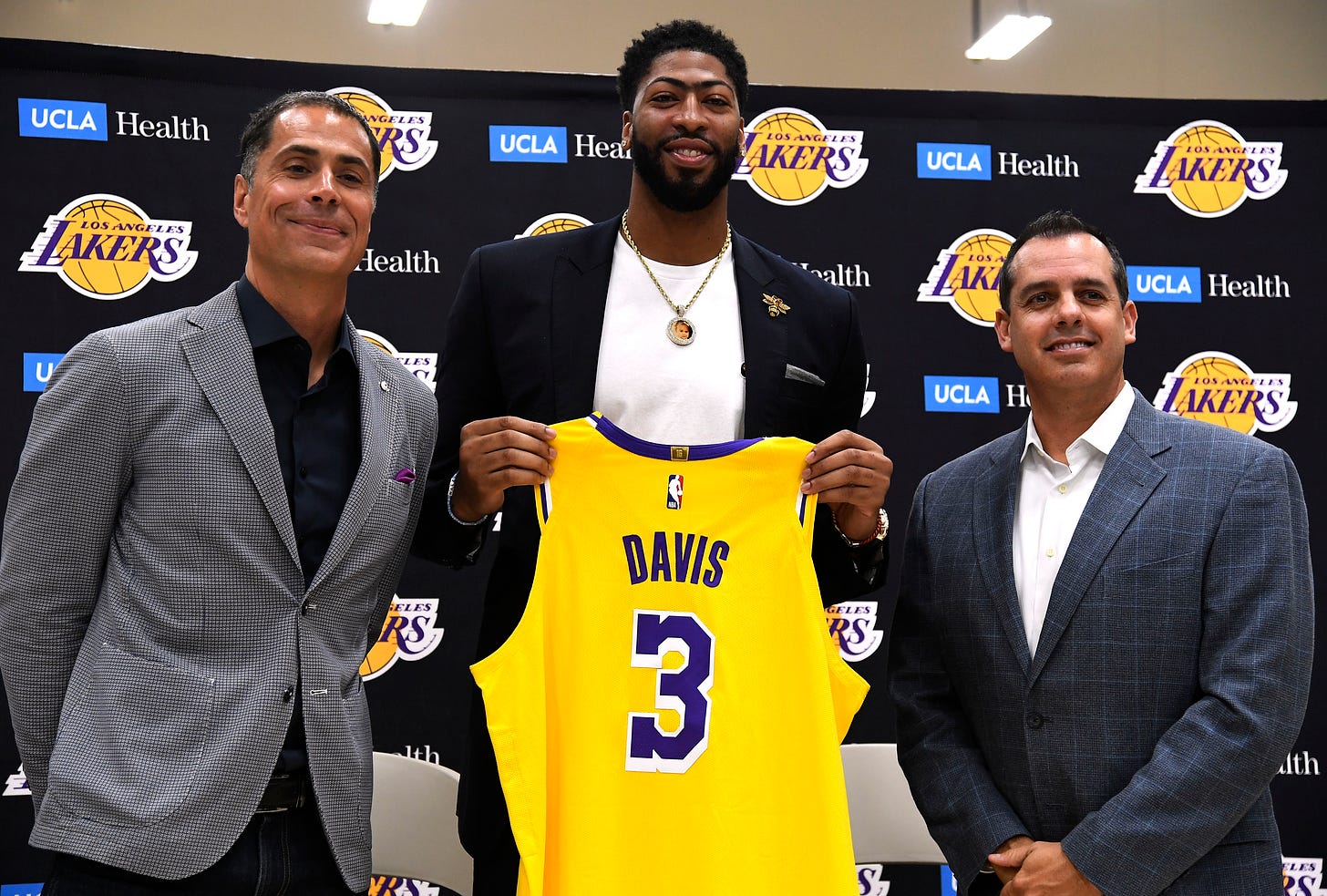 Everyone jumped on that after the trade. It was too good not to. Sure, the Lakers got Anthony Davis but Pelinka not knowing the rules prevented them from signing Leonard or another max free agent in the process. The only problem is it wasn't true. Pelinka was an NBA agent for 20 years before joining the Lakers. He was in constant communication with Marshall Rader, the team's salary cap and CBA analyst, who previously worked with the San Antonio Spurs and Indiana Pacers. The notion that Pelinka, Rader and others within the organization just learned about the league's calendar after the fact when writers pointed it out on Twitter never made much sense. 
"Of all the stories out there," one Lakers official told me at the time, "that's easily the dumbest." 
Pelinka and the Lakers had a plan and were able to secure enough salary cap room to offer a max contract to Leonard, who ended up signing with the Clippers. The narrative at that point was that Pelinka had gone all in on Leonard and after missing out on him, had also missed out on other free agents the team could have signed. Sure, he got James and Davis but who else was he going to sign to piece together a championship team? He went out and signed Danny Green, Avery Bradley, Quinn Cook, Jared Dudley, Devontae Cacok and Kostas Antetokounmpo. He re-signed Kentavious Caldwell-Pope, JaVale McGee and Rajon Rondo. He signed DeMarcus Cousins and when Cousins was injured before the season, signed Dwight Howard. He also signed Markieff Morris, JR Smith and Dion Waiters midseason.  
During the NBA Finals, Calwell-Pope is third behind James and Davis in scoring with an average of 11 points per game while Morris is tied for fourth with 10.5 points per game. Role players such as Alex Caruso, Kyle Kuzma, Rondo, Green and Howard have all had their moments during the Lakers championship run. 
Pelinka was also criticized for failing to hire Tyronn Lue and instead naming Frank Vogel as the team's head coach and surrounding him with former head coaches Jason Kidd and Lionnel Hollins, who had interviewed for the head job, as his assistant coaches. The trio grew tighter than anyone could have imagined and before the season was halted in March, Hollins recalled a flight home from a road game in New Orleans. 
"We ate, we slept, we talked, we laughed," Hollins said. "It was one of the best flights ever even though it took forever. It was a fun time. Frank has the ability to be serious and keep it enjoyable at the same time and he allows us to join in on the party with him."
Every move Pelinka made helped the Lakers be in position to win the franchise's 17th world championship and first since 2010. Not only did he stay on the job after the passing of Kobe Bryant, his best friend and former client, and Gianna Bryant, his goddaughter, but he helped a team in mourning get through it by talking to them.
"No one knew what to say to Rob afterwards or how he would continue," said one team employee. "But he's the one who came up to us, talked to us and gave us a hug." 
Pelinka didn't win the executive of the year award and likely will never be viewed as a great executive by his peers. That's fine. He and the Lakers are one win away from winning the only award they care about. 
Listen to "The Arash Markazi Show" on The Mightier 1090 Monday-Friday from 12 p.m. to 1 p.m. You can also listen to the show later on Spotify, Apple Podcasts and Google Play.