Discover more from The Morning Column presented by The Sporting Tribune
A free daily newsletter from The Sporting Tribune, delivering local sports news, viewing schedules and deals on tickets directly to your inbox.
Dodgers look like champions
Notes on an iPad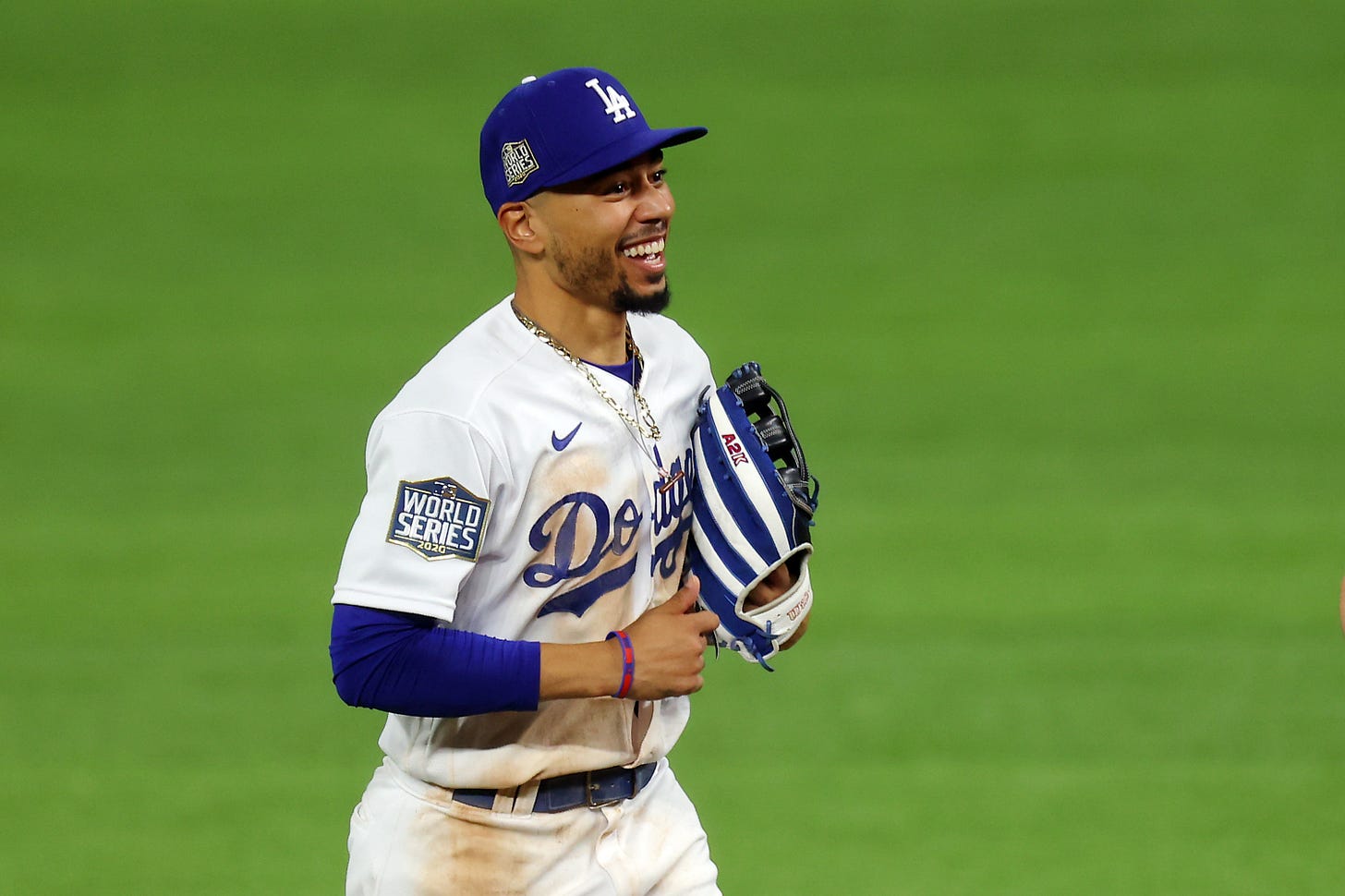 ARLINGTON, Texas – Take a breath, Dodgers fans. Enjoy the moment. Savor it. Allow yourself to momentarily feel good about something going right during a time when seemingly everything around you in the world is going wrong. . . .
I don't need to tell you to hold off on celebrating the team's first World Series championship since 1988 just yet. It's natural for the media to jump to conclusions after a team wins Game 1 in commanding fashion as the Dodgers did with an 8-3 win over the Tampa Bay Rays Tuesday night but you know better. . . .
When Dodgers players were asked postgame about the feeling of being close to winning the World Series, they brushed it off the same way Dodgers fans no doubt did. Sure, 20 of the last 25 World Series champions won the first game of the series, including 14 of the last 17, but Dodgers know one of those teams that didn't. . . .
Dodgers fans remember their team winning Game 1 of the World Series in 2017. They remember having the lead in the ninth inning in Game 2 before losing in 11 innings. They remember being one home win away from winning the World Series before losing Game 7 to the Houston Astros. Sure, we now know how the Astros won but the scars from those losses still remain as Dodgers fans cautiously navigate the excitement of being three wins away from a World Series title with past postseason letdowns. . . .
No real Dodgers fan is getting ahead of themselves regardless of the win, headlines and storylines coming out of Tuesday's victory but you can be excused for having a different feeling about this team because it's not the same Dodgers team that let you down in 2017, 2018 and 2019. There are several reasons why but Mookie Betts is undeniably the biggest difference and the reason the Dodgers are likely to go from a great regular season team to World Series champions this season. . . .
Betts became the first player to hit a home run, steal two bases and score two runs in a World Series game. Oh, and he won everyone America a free taco with one of those stolen bases. It's going to be hard for anyone to ever top that stat line. . . .
If Betts helps the Dodgers win their first World Series in 32 years, he will become an instant sports icon in Los Angeles less than nine months after the Boston Red Sox foolishly traded Betts and David Price to the Dodgers for Alex Verdugo and Jeter Downs. Not only has he provided Dodgers fans with several unforgettable moments during this postseason already but they have been live tweeted by Magic Johnson and LeBron James as the Lakers and Dodgers look to win in the same year for the first time since 1988. . . .
The performance of Betts was so spectacular that it almost overshadowed Clayton Kershaw, who retired 17 of the final 18 Tampa Bay batters he faced during his six-dominating innings on the mound. He only allowed two hits and one walk and struck out eight as he looked like midseason Kershaw instead of postseason Kershaw. To be fair, if you remove teams that cheated to win a championship, Kershaw's World Series ERA is about 1.80. . . .
If the Dodgers feel at home at Globe Life Field in Arlington, it's because it is their home at this point. The Dodgers have called the ballpark their home since eliminating the Milwaukee Brewers at Dodgers Stadium in the National League Wild Card Series on Oct. 1. They defeated the San Diego Padres here in the NLDS, overcome a 3-1 series deficit to beat the Atlanta Braves here in the NLCS and celebrated Tuesday's win as Dodgers fans sang Randy Newman's "I Love L.A." in the ballpark. …
There were 11,388 fans at Globe Life Field for Game 1 of the World Series and it looked and sounded like about 11,000 of those in attendance were Dodgers fans. Some were local Dodgers fans but many made the trip to Los Angeles to watch their first Dodgers game in-person this season. . . .
If the Dodgers go on to win the World Series at Globe Life Field, the new $1.2 billion home of the Texas Rangers will always feel like the team's second home. If the Dodgers want to take a piece of the stadium back home with them, they should consider adopting the Boomstick as a concession item moving forward… 
The Boomstick is two-foot all-beef hot dog, which is covered in chili, nacho cheese, carnalized onions and jalapenos and served on a potato bun. The hot dog, which is served in a carrying case, weighs three pounds and costs $27.50. Nothing will ever replace the Dodger Dog in the hearts of Dodgers fans but the Boomstick would be a nice reminder of this crazy 2020 postseason.  
Listen to "The Arash Markazi Show" on The Mightier 1090 Monday-Friday from 12 p.m. to 1 p.m. You can also listen to the show on Spotify, Apple Podcasts, Google Play and Stitcher.